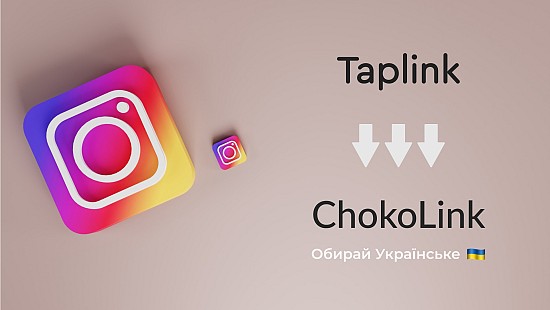 Taplink? No, Ukrainian service ChokoLink
Transfer your microsite from the russian service to support Ukraine's economy and protect your business. And we, in turn, will help you choose the platform that is best suited specifically for your micro-site, save your current design, content and functionality. You will get an almost identical site you have one now, or even better.
Why move a site from Taplink to another platforms?

Taplink - russian platform. By paying for the subscription, you continue to finance the war with Ukraine.
Blocking russian resources. There are more and more cases when russian platforms do not work or work intermittently.
Your micro-site data is at risk. At the request of the Russian authorities, your personal data may be disclosed and your Taplink account and site may be blocked.
You lose your customers. In the current reality, when your customers see that you use russian platforms for work, in most cases they refuse to order your services / goods, and turn to competitors.
How to replace Taplink
ChokoLink (Ukrainian service)
UniLink
Clixby (Ukrainian service)
mssg.me
Linktree
and other
Another option for replacement may be a custom website, it will be no different from the mini-landing on the website builder, and will even be easier to use. You will not be limited in design or functionality, as in the services for creating multi-links.
As it turned out, you can find a worthy replacement for everything.

We can move a site to almost any platform, but there are always a few options that work best for your site.
Contact us to get advice and find out which platform is best for you and the cost of transfer.